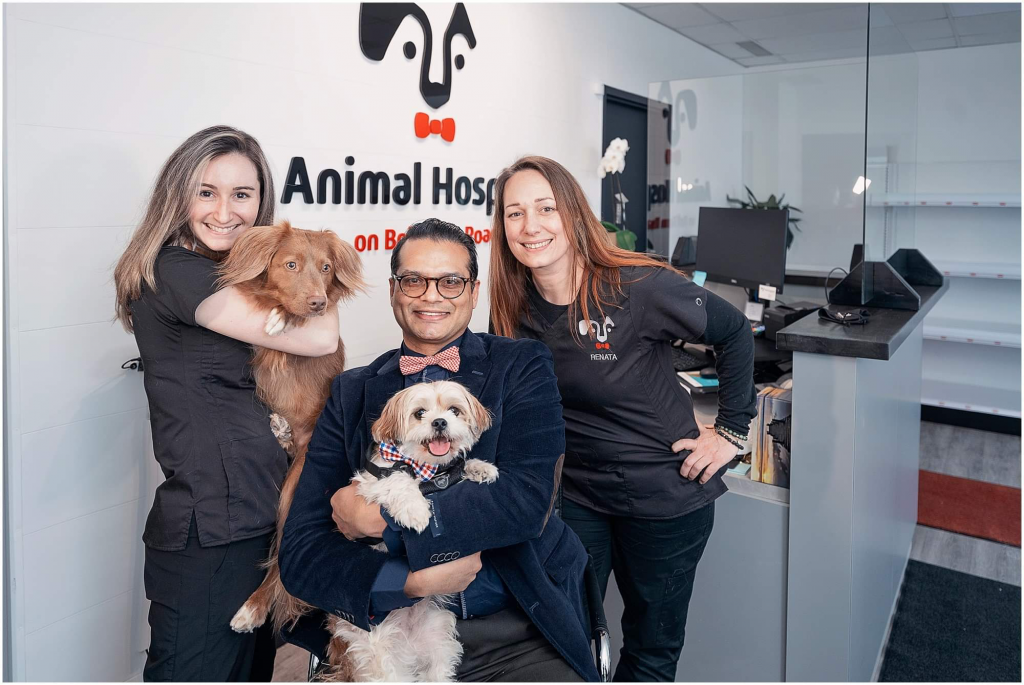 Do you have a 'Pet Kid'? In many ways I believe our pets have given us more comfort in the past year than they have since the advent of fire. Pets satisfy a need in the lives of so many people!
We've 'Uncovered' the ultimate professional caregivers for our furry friends.
It's such a feeling of welcome, calmness and serenity that our pets walk in feeling loved and safe; even when they're not well.
Doc. Bowtie, a.k.a. Dr. Uvi Singh, resonates with a passion for our pets. He comes with a blue ribbon pedigree himself; having served as a doctor to our furry family members on 3 continents.
His vision as a Vet (I almost don't want to call him that), is more than I, as a human, can understand. I feel at peace when I have a moment to discuss pet care with him. (That's when he's not busy communicating with the loved ones in his care).
To discuss the health and well-being of your own 'pet kids' this month is a great time to discuss dental needs.
FEBRUARY IS DENTAL AWARENESS MONTH
Pets come first. As a responsible family member, you realize that immediately.
Preventing animals from suffering in silence, especially when it comes to their mouth is one of their personal missions…does your pet speak English?
Book in for a dental assessment and consultation so they can help guide you and advise you on the best preventative treatment options….February IS Dental Awareness Month!
Dental Awareness Month – Promotion
10% discount on dental anesthesia…oral cleaning…dental x-rays and intravenous drip, plus a bag of prescription Dental Diet at Cost price on us!!
Dr. Uvi's vision is "futuristic come to life"! The most up to date medical equipment partnered with a level of passion rarely seen in the industry.
Dr. Uvi and his staff have chosen a new direction in pet care. They have made a commitment to us as 'pet parents" to be emotional beings to serve the 'human-animal bond', with trust, empathy, and compassion.
Even the mission statement makes me feel warm and fuzzy.
"Our mission is to build and maintain trust with you so together we can create the most comfortable life for your pet kid.
Their world 'begins' and 'ends' with us…We owe it to them to make every second of their existence count!
This delicate bond makes Dr. Uvi and his staff a vital link between us and our pets. On one hand their realistic view of our pets assures a life of quality and longevity. On the other hand, the advanced technology at the hospital provides the same levels of medical care for our pets that we as humans have come to expect!
Everyone is so in sync with the relationships between pet and parent that it's an established 'bond-centric' practice. You immediately feel that it's not a job, but a passion of inherent happiness to their life mission. Even Miso, the furry four-legged puppy, must give his seal of approval everything!
I am assured that even when making difficult decisions regarding the health care of your pets, the staff will guide you through the process with heartfelt understanding and realism.
I must tell you that I feel such an immediate level of connectedness with all that is…Animal Hospital on Bell Farm Road.
Photo Credit: Stephen Elliott