Classes will resume on September 19th, 2023. We apologize for any inconvenience.  
Is your dog training you, their human?
The staff at Animal Hospital on Bell Farm Road are pleased to announce the opening of The Dog Training Studio!
Classes are held in our Training Studio, which is under one roof at our hospital. Class sizes are small and personable, allowing for undivided attention between you, your pet, and your trainer.
Our classes are open enrollment for both our clients and non-clients of Animal Hospital on Bell Farm Road. Tell your family, tell your friends, tell your neighbours! We look forward to helping you strengthen the human-animal bond between you and your beloved pets for years to come!
Classes:
Behaviour Consultations:
Individual 1 on 1 Behaviour Consultations – Temporarily unavailable.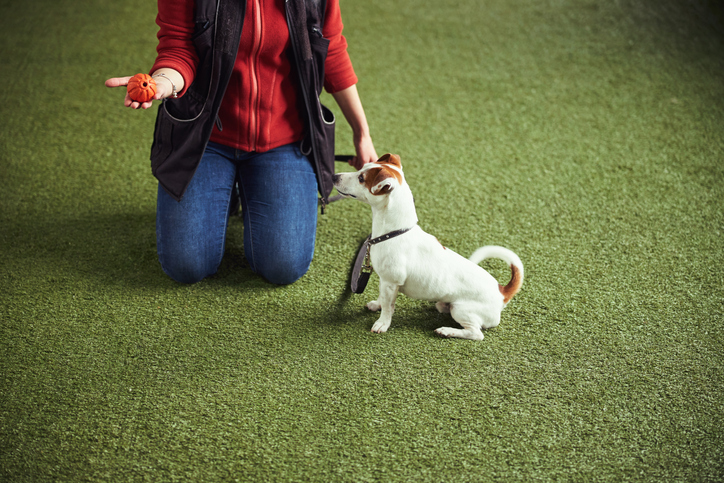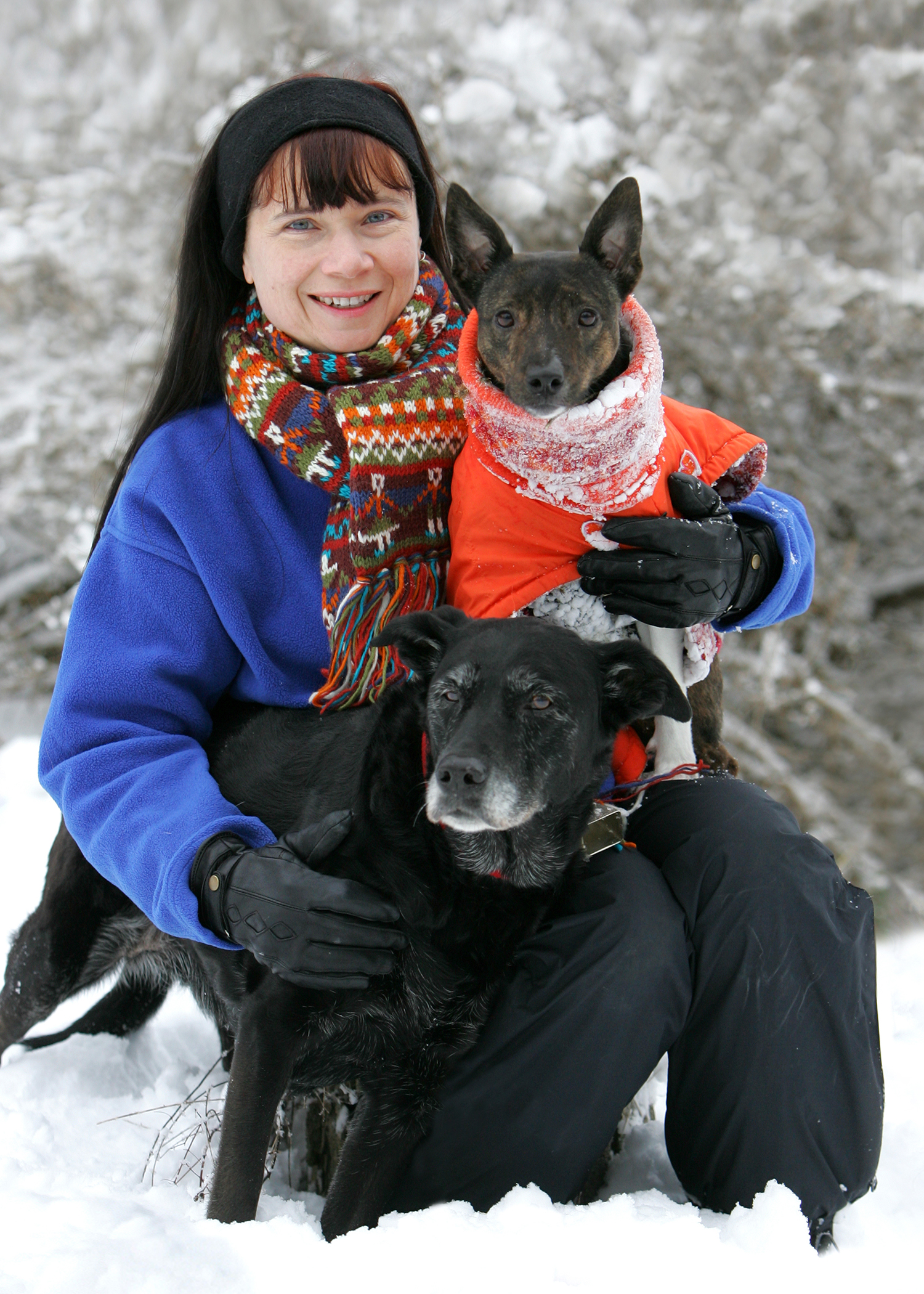 Katherine Ferger, CBCC-KA, CPDT-KA, KPA CTP, FFCP, SDC, CTDI
Katherine is well-known for her work with dogs and puppies. She has over thirty years of professional experience that includes training pet dogs, working dogs, and sport dogs. As a Karen Pryor Academy Certified Training Partner, a Certified Professional Dog Trainer, a Certified Behaviour Consultant Canine, she has been sought out to teach classes and conduct seminars all over North America. Most recently, she has acquired her Fear Free Certified Professional certification.
Her mission is to strengthen the bond between dogs and owners, thereby enhancing relationships and enriching both dog and human lives. She coaches dog owners to train their dogs in a way that is kind, engaging, and highly effective. Her specialties include working with reactive dogs, aggressive dogs, fearful and socially shy dogs, as well as puppies and sport dogs.
She stays on top of new research and is continually upgrading her skills and knowledge through workshop, seminars, courses and webinars each year. She has learned from numerous well-respected trainers, including Bob Bailey, Karen Pryor, Ian Dunbar, Michael Shikashio, Grisha Stewart, Denise Fenzi, Amy Cook, and many more.
Katherine lives with a pack of Australian Koolies and a few mixed breeds. Her dogs have performed with the Superdogs and with WoofJocks at many local fairs and venues such as the RCMP Musical Ride, The Canadian Pet Expo, and the Canadian National Exhibition. She has put over 150 titles on her dogs over the years in sports such as disc dog, dock diving, musical freestyle, trick dogs, and flyball. Several of her dogs were Disc Dog World Finalists and her mixed breed dog, Tallulah, was Canada's first World Champion in the sport of Disc Dog when she won the Skyhoundz Microdog World Championship Title in 2007.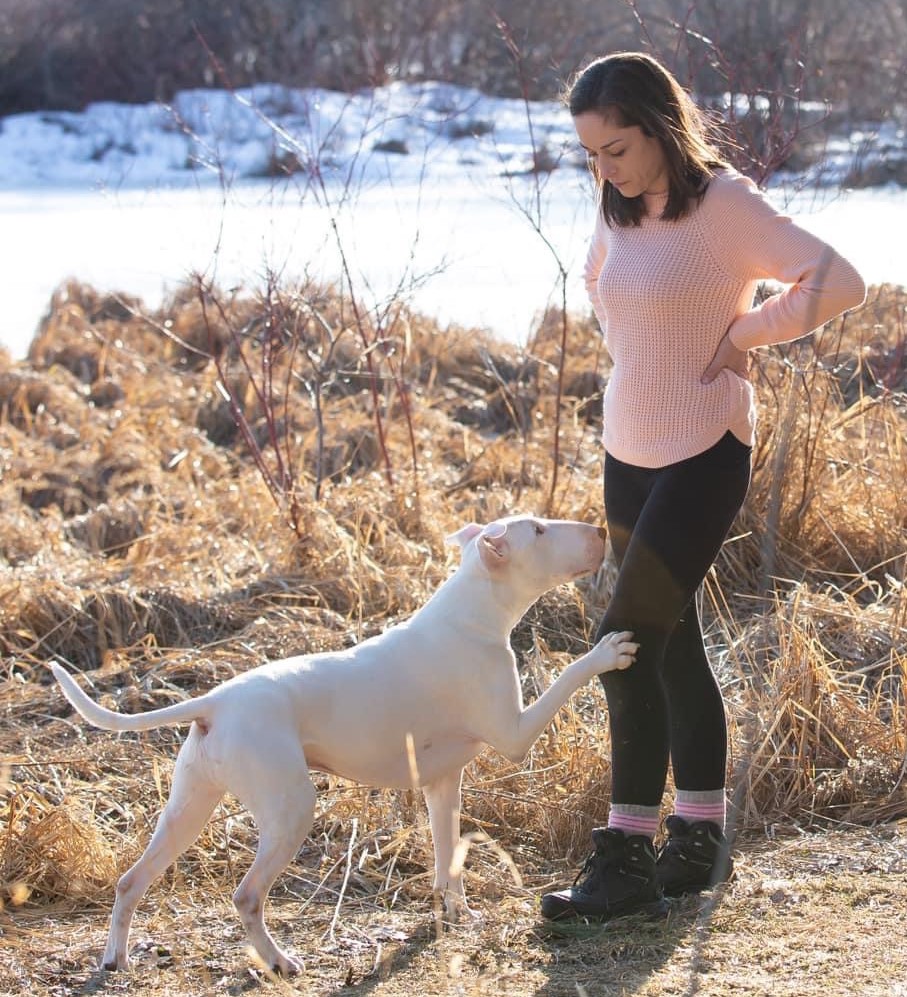 Sophie Buck, KPA CTP, CPDT-KA, CTDI
With over ten years in the pet industry, Sophie feels incredibly lucky that she has been able to build a career based on something she feels so passionate about. In addition to dog training, she has experience working in a shelter, pet sitting, providing dog daycare and boarding, and dog walking, which means that she has had the opportunity to get to know dogs with different backgrounds, of all ages, and of many breeds.
After spending some time as an apprentice instructor in group puppy classes, Sophie went on to attend the Karen Pryor Academy Dog Trainer Professional program and graduated with distinction. She completed the program with her dog, Troy, who has been a long-time faithful sidekick and has since become one of the first Bull Terriers to title with the SDDA, Do More With Your Dog!, and CARO.
Continuing education is important to Sophie, and she has attended many classes, workshops, and seminars from organizations like Fenzi Dog Sports Academy, Grisha Stewart Academy, the Scandinavian Working Dog Institute, and more. Since becoming a Karen Pryor Academy Certified Training Partner, she has gone on to achieve more credentials: Certified Professional Dog Trainer and Certified Trick Dog Instructor. She is currently working towards a degree in Psychology with the goal of conducting her own research on animal behaviour.
When Sophie is not working with clients' dogs, she is spending time with her own. In addition to activities like hiking, her dogs participate in dog sports, having achieved titles in tricks, scent detection, and rally obedience. Because Sophie can't get enough of training, she also teaches her cats to perform tricks. Carmen, a domestic shorthair, has a Novice title through Do More With Your Dog!, and Mortimer, a Sphynx kitten, is working towards his. She hopes to pass on this love of training to her students by making classes both informative and fun.